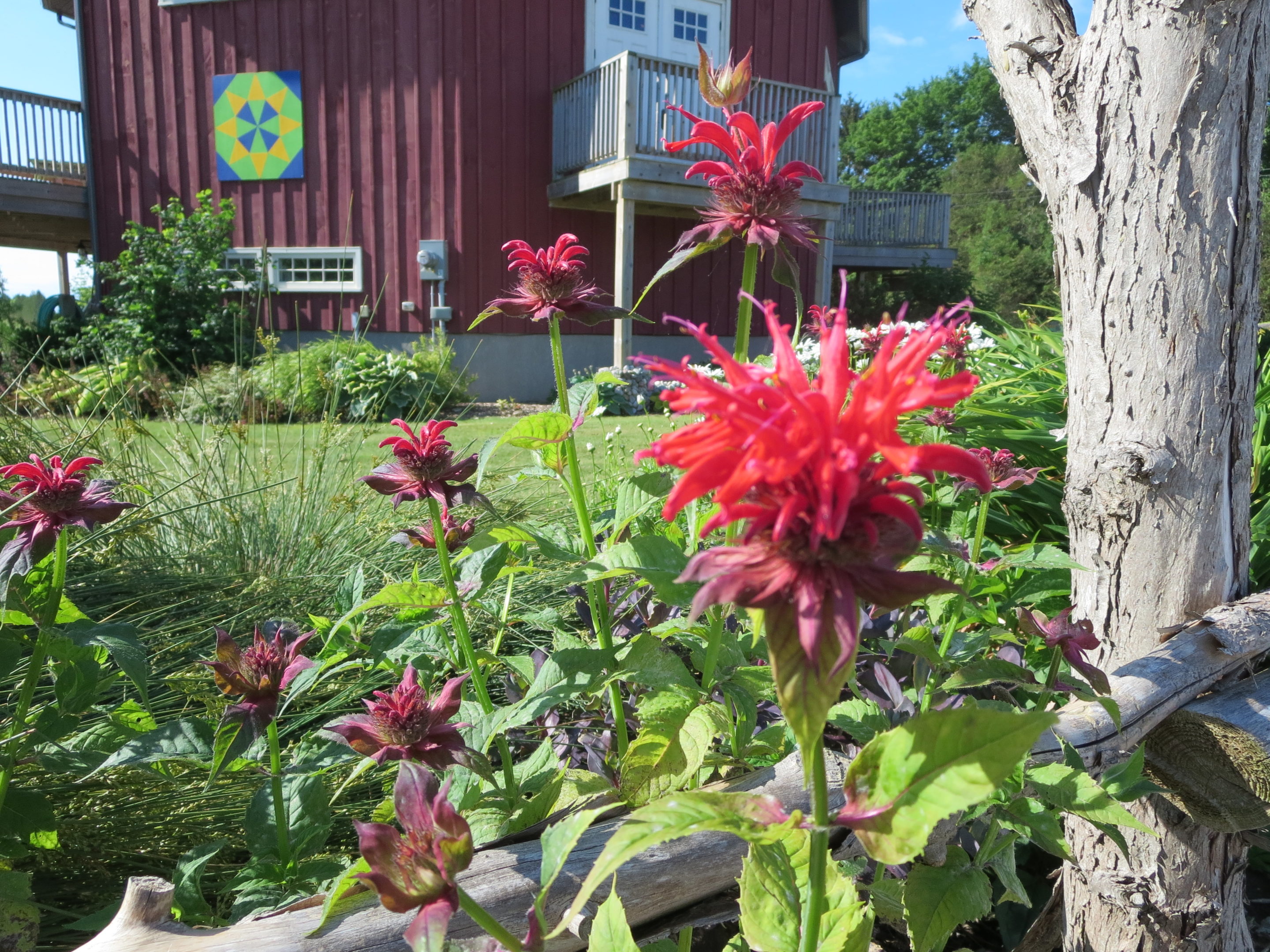 "What are those designs on barns?"
That's how the conversation usually starts when tourists travel through our rural area and notice the "Barn Quilts".  And it is a talk we love to have.
We have been involved in the Barn Quilt movement for about 8 years and that is about half of time that these rural artworks have  been in existence.  Many folks think they are traditional ethnic designs and have been around for more than a hundred years.  But that is not really so.  While they might draw some of their inspiration from the Hex signs that Pennsylvania Deutsche (German immigrants) decorated their barns, but really they began in Adams Co, Ohio when Donna Sue Groves wanted to decorate an old tobacco barn on the property she shared with her mother Nina Maxine, a retired schoolteacher and celebrated quilter.  Once they had created the first painted replication of a quilt block, they encouraged neighbours to create something similar and hang it on their barns and outbuildings.  This first barn quilt trail to promote tourism launched the barn quilt movement in 2001.  Community organizations across the U.S.A and then Canada started created trails in their rural communities. You can watch an inspirational video of the late Donna Sue Groves here.
In 2007 a group of women in Temiskaming, Ontario saw a magazine article about the Ohio barn quilt trail and were inspired to create 200 quilt squares for the International Plowing Match in Earlton.  That same year, Denise Corneil's mother returned with a barn quilt brochure from the U. S. Denise and her friend Mary Simpson wanted to create a special project for the 200th Anniversary of Georg Ward settling at the future site of Wardsville, Ontario.  A group of volunteers created 30 quilts and installed them in and around the village in time for the village's 2010 Bicentennial Celebrations.  After this success, this dynamic duo created best practices for making and installing these quilts and this led to the establishment of Ontario Barn Quilt Trails.
Mary and Denise worked with groups all over the province to get groups established to tell their community stories through barn quilts.  A small group met here in June 2014 to set up the East Kent Barn Quilt Trail.  Mary and Denise were helpful by providing us with the knowledge and funding to paint the first 12 quilts for Chatham-Kent.  The trail begins on Longwoods Road near Wardsville travels through Highgate go west along Talbot Trail  through Palmyra (east will connect you to the Elgin County Trail) and then north along Victoria Road (21) through Ridgetown leading into Thamesville.  At that point it joins with the  Thames River Barn quilt Trail.  Many of the quilt trails, with the relating stories of each quilt, can be found at Canada Barn Quilt Trails. This is a great resource to check before taking a road trip, print it off or book mark it on your phone so you can discover the local stories.
That winter in 2014, participants in the East Kent Barn Quilt Trail painted their quilts here at the Crazy 8 Barn & Garden. I painted the Dakota Star that hangs on the west side of our building.  The next winter the Local 4-H club held their meetings here and created more quilts.  As a thank you for using our space, they painted the Evening Star barn quilt that hangs on the east side of our building.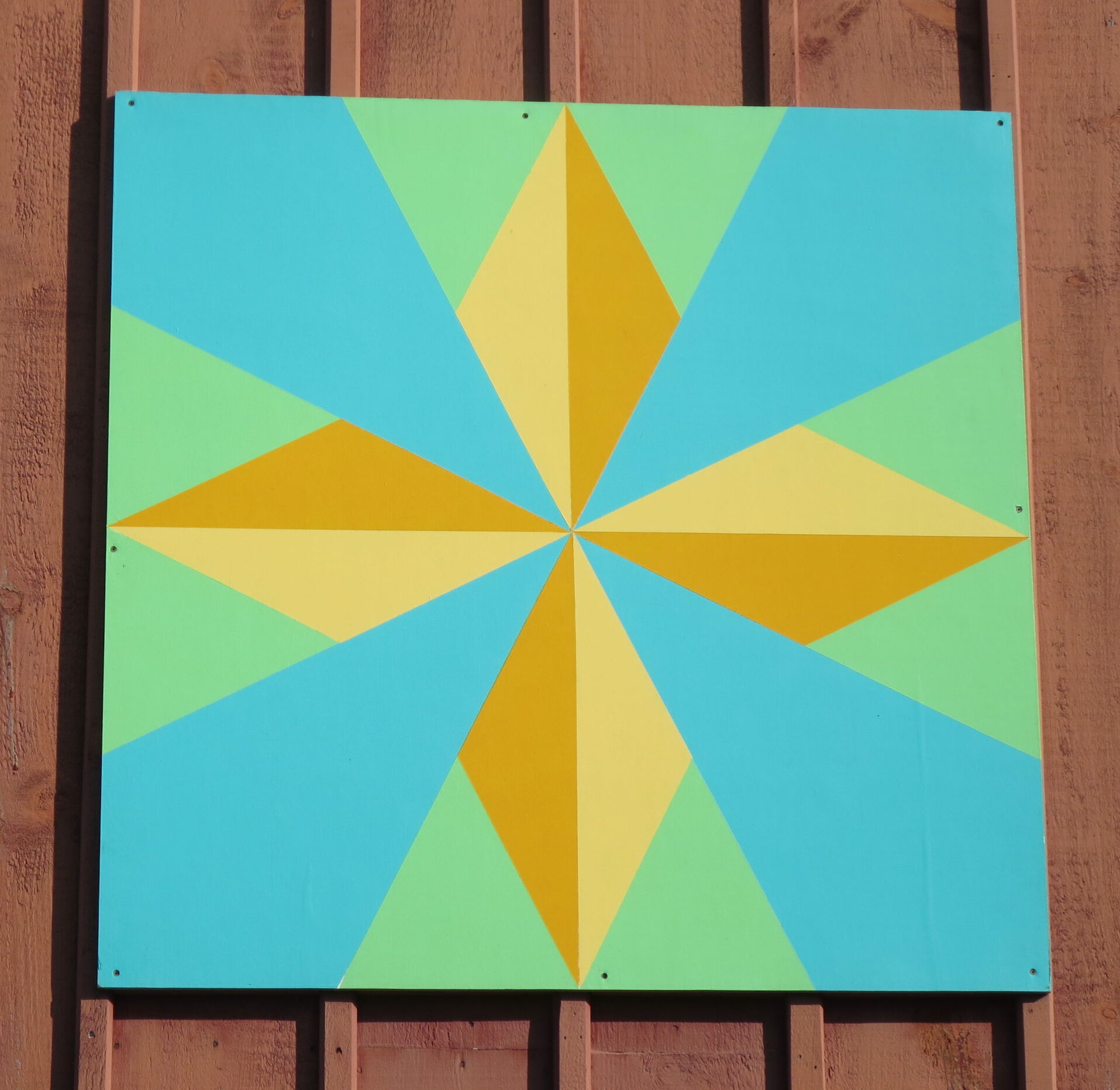 The Dakota Star tells the story of the original construction of the Crazy 8 Barn.